May 21, 2014 4:20 pm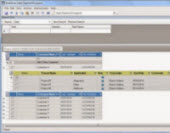 We at Singletree Technologies have many….and I mean many….spreadsheets to help us manage our business.  We had always talked about moving these spreadsheets to Intellimas, but until we had the capability to create our own master data, this was not feasible.  Once we developed this functionality, it was time "to eat our own dog food" as they say.
On a weekly basis we get together as a group to review our business and customers.  The first part of this is to review what we refer to as our 'sales pipeline' which tracks the projects or leads we have gathered or heard about and the status of those leads.  These leads may be new customers or new projects with existing customers.  Our Sales Pipeline thus became the start of our Customer Relationship Management (CRM) process in Intellimas.
Our first challenge was that we did not have a customer master to call home.  Second, without a host system, we do not have a user database and a way to have multiple users log into Intellimas.  Well, a new capability was added to our newest version of Intellimas which is LDAP authentication.  This allows us to log in with our network userid and password.  Great!   Development answered and we had one problem down…Next up, was to create a customer database.  Here we used our new solution called 'CRUD' (such an ugly acronym for a powerful function – Create, Read, Update, Delete). This solution allows us to create master data within Intellimas itself, and not rely on another data source!
As you can see from the above screenshot, I am able to 'Add a new Customer' any time I need to.
This entity definition is utilizing the requestee level to identify the projects under each customer.  We have other data we capture for each project lead which was easily implemented using our User Defined fields.
Once the project is won, a contract is issued and the line item in the sales pipeline is closed. Each week we use a shared search on the dashboard to show only current items….  Anything that is WON or LOST will not appear in our weekly meeting (as there is no need to review the status of these items).

Our next review is of current client projects. Once the project is official, we can note the contract being received as well as it being 'Won' in the Sales Pipeline. I use this flag as a parameter in my Client Projects entity so that we only see active projects. Once again, we have a shared search established that will show current client projects (any completed projects will be filtered out).  Each member of the team is responsible for updating current status of their projects.  They can filter and search for their own projects or just have all current projects on the screen.  These updates are reviewed during our weekly meetings (and sometimes updates are done during that meeting as well).  We capture data such as milestones, current issues, as well as project plans (which have the ability to be attached to each project in our attachment fields).  We also have the ability to assign additional resources to the projects using our multi-select field.  Individual comments are aggregated into comment history threads by using scripting in the administration so we can see how the project has moved along from one week to the next.
One other challenge we had was to determine where we can store values for our dropdown lists.  An additional entity (another CRUD entity) was created so we can have a place to store these lists of data that have no home. Fields like 'Project Type' or 'Application' are items we want to be able to select rather than just free type in a text box…those lists have to live somewhere, and since we don't have a 'Master Data' source, we created one through our entity called Validated Lists.
Having Intellimas for our internal processes will definitely streamline our weekly reporting.  More importantly, we continue to enhance the product for our customers, and will now have a better insight as to the potential for the application through our own use.  We're excited about the possibilities and cannot wait to beta test our NEW BROWSER version in our real life business scenario.  More to come on that soon!