February 6, 2012 4:51 pm
Welcome to the inaugural Singletree blog post.  Our focus will be how we have solved business problems with our solutions. However we will also look at trends and issues in the soft goods and retail industries and post our thoughts on them.  
Today I would like to focus on a problem we solved at a large specialty retailer.  This company recently implemented a leading supply chain management (SCM) system. The system has comprehensive costing and RFQ functionality which can handle the product costing for this company but required the users to input data in a variety of screens in order to set up the quote and then fully cost the garment.  Well, this functionality was rolled out and immediately the end users complained that it required too many clicks and screens to get the job done.  So the users stayed with the spreadsheets.  Singletree was brought in because of our reputation for solving the problem of getting users off of spreadsheets.  To make a long story short, we implemented IntellimasÔ to solve this problem.  In a few hours of work, we had styles being retrieved from the  SCM system and a few hours more, we had the fields necessary to compare quotes and fully cost out the garment.  The bulk of the hours on the project were spent on two tasks:
Having duty and freight driven off tables so the end users did not have to even think about those costs. (see the bottom of the post for an example)

Integrating the selected quote's final cost back to the SCM system
The results were immediate which actually surprised us:
The end users immediately dumped their spreadsheets. When we first showed them the product, they didn't get it. But when we showed it to them with their data and with their costing methodology, it clicked. The end users were able to shed their spreadsheet dependency because Intellimas had a lot of the same features and it was not "click-intensive"

They now go into costing/pricing meetings with our application and make sourcing and pricing decisions real time. And best of all, these sourcing and pricing updates give them real time margin analysis.

They now have a database from which they have created analysis reports using a BI tool.  
These results have affected how we work with prospective clients now.  We now emphasize this real-time meeting aspect which will allow companies to work smarter and faster.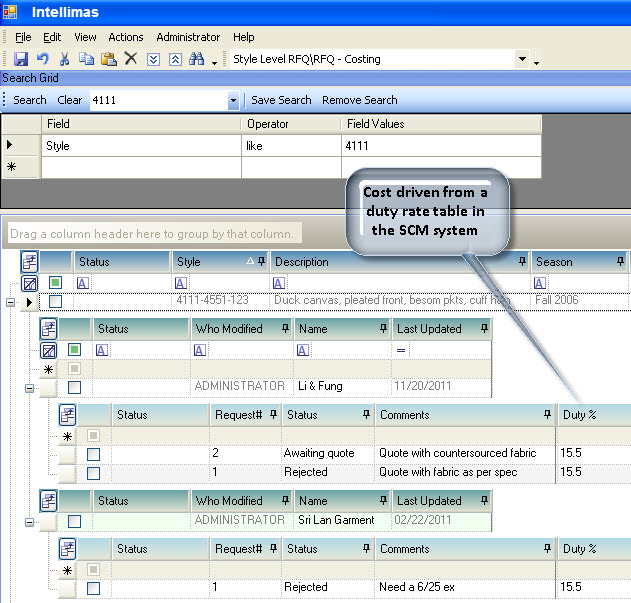 Learn more about Intellimas on our website.